The rock candy's melted, only diamonds now remain.
Exactly one year ago, I was finishing packing up my car with everything I owned and gassing up to leave for Phoenix in the morning. I think back to that day. A really beautiful, sunny, breezy Kansas City day. Standing in the driveway with my mom, readjusting and repacking my back seat and trunk to ensure the most efficient use of space (15% of which was Boulevard beer). Rechecking the bathroom, under the bed, the kitchen, the garage, oil level, tire pressure, Ipod charge, another cup of coffee, kisses from mom…
As Dara and I set out the next day from the city I called home for 15 years, I remember driving and driving and gradually getting further and further away from, not just the city, but from familiarity. There's not one street I could go down in the KC Metro with out recalling some event, mishap, divine encounter, or old flame. Not one store I could go into without running into someone I knew. All over the town, pieces of my life - a tiny garden of forking paths, each diversion leading me away from who I am and closer to who I am now. I could literally map out the major and seemingly unimportant events in my life alongside every backroad and late-night restaurant in a 50-mile radius of Kansas City. 
And we just drove
And drove
Until, at last, I was on a road with no memory. 
A new journal opened up in front of me with nothing but crisp pages and virgin blue lines and I felt so many things… the weight and insecurity of leaving all my comfortable little limits and familiar places. The freedom of wide open spaces. The fear of that freedom. The sadness of leaving people I loved. The relief. The sudden inhale of air one breathes on mountain descent - not realizing just how thin the air was until it wasn't any longer. 
I had never felt so alone.
I realize that sounds sad, but it wasn't. I am not sure when, but at some point in time I fell into the habit of meeting everyone's expectations. It's a particularly bad habit because, I am REALLY bad at it. That loneliness, though, was the first time I think I felt really free from that. I was moving to a new city, starting a new job- not starting over, but just realizing where I ended and everyone else began. Seeing for the first time how horrid my depth perception was in regards to those lines and how I braided them into sturdy little bonds to keep me stuck there. 
When I was little, my mom used to pay me to untangle her jewelry. She would hand me this whopping mess of gold and silver chains intermingled with mateless earrings and threads and rave about how I was so good at separating all the little hooks and knots with my dainty fingers and hawk eyes. I never met a necklace I couldn't untangle, but I never realized that those same little fingers work the opposite way too. Man, did I make a mess of myself; weaving my dreams and desires into everyone else's, leaving me wrapped up in the middle of a ball of hand-me-down wants and tarnished excuses. 
One year and a day ago, I left. 
And, although I miss the people there, I have never desired to go back. Not once have I missed the place. 
I have heard so many people talk about not living in your past. I've had counselors that train brains to not recall painful memories. It doesn't ever work though. We remember whether we want to or not. We have our intentional remembrances- anniversaries, birthdays, a playlist, a dinner order… but then there's all the unintentional memories. One scent, one song, one little phrase or shirt pattern can send our minds and hearts shooting back to a moment we don't ever want to relive again. All the sudden, we are just there with no willingness, no intention, no action. We are made to remember, but we are not made to relive. Leaving gave me the ability to do that, and I am ever so thankful. I had so many people and places dictating to me who I was that my reflection was fogged and I couldn't see myself properly. 
I'm still not sure if I can, but I have certainly left the house of mirrors. Just being, just living. And lo and behold, I fell in love in the open spaces. And someone fell in love with me there. And one year later, I am 36 days away from marrying a man who loves me for exactly who I am, including everything I ever was or will be. 
This place, in flux and flow, this is the place where love is nurtured and freedom found. Open hands, open eyes and and open heart, ready for what may come, come what may, always ready and trusting God not because what he gives is good, but because he is good, and out of that, he gives. 
Oikocredit: Micro-finance for Macro-goodness
    One area of immense controversy in the world today is the effect of Non-Governmental Organizations (NGOs). NGOs have no governmental affiliation and provide different forms of aid to areas that would, otherwise, have no such access. Whereas governmental aid is more policy-oriented and obligatory, NGOs are usually non-profit and are designed to function off of volunteer efforts, donations, and partners. As the world has progressed, NGOs have had the opportunity to evolve into much more efficient and holistic efforts. Some organizations, however, have not gotten on the bandwagon. TOMS shoes for instance, has gained immense popularity and boasts on it's business model  but, although the intent is a good one, TOMS results in aid-dependence, supports unfair labor practices, and withers the community by taking away business from cobblers in the countries they supply to. These are the reasons for the controversy over NGOs coming heavily into play. Are they helping build communities or crippling them? Are they causing more damage to a community by their "charitable" contributions? Are they really just welfare to the needy, resulting in laziness and aid-dependence? These questions have resulted in a lot of unfortunate answers and further evidence to support the old saying that "the road to hell in paved with good intentions". So, is international aid inevitably doomed or can we reinvent the wheel?
                In our modern age, consumerism has become the key to holding economic and societal worth of any country or business therein. As consumers, especially in America, we have an incredible opportunity to lean into the power we have as consumers and demand that the products we purchase are produced within the same realms of freedom we enjoy every day. Unfortunately, this is hardly the case. The products that gain immense popularity are usually those that cause the most damage. Brands such as Nike, Apple, and Hershey's, are certainly not lacking in reports of slave labor and child trafficking. So why do we support them? What about the companies that are going about their business practices ethically? What about the organizations that support the consumers as well as the laborers? What about the businesses that give back to the environment that they take from?
                The NGO I've chosen to discuss is Oikocredit; a micro-finance organization that supplies loans to 26 million clients world-wide. Oikocredit began in 1975 and has, since, grown into one of the largest micro-finance organizations in the world. There mission statement reads:
"As a worldwide cooperative society Oikocredit promotes global justice by challenging people, churches and others to share their resources through socially responsible investments and by empowering disadvantaged people with credit."
            Oikocredit receives money from investors and disperses the funds as a large loan to worthy micro-finance institutions and financial cooperatives all over the globe. The funds are then divvied up into small loans and given to those in poor communities that desire an opportunity to pull themselves out of poverty in various ways, such as starting business. Oikocredit also works with their partners to provide services to those borrowers to ensure success in their endeavors. Oikocredit's success lies in it's strong foundational values, holding to the beliefs that "all people are created equal… women are the backbone of their societies… meaningful sharing… ecumenical solidarity… grassroots… integrity… transparency… natural balance… and evenly divided resources".
            With an outstanding capital of € 516 and 2% return to investors, Oikocredit maintains it's holistic and supportive nature to all those involved. With their focus on ethical labor practices, environmental support, female empowerment, and truly impoverished communities, they have found a way to take beautiful ideals develop them into a very wonderful reality that anyone can choose to be a part of, whether it's an investment (as little as $20), purchasing products from partners and/or borrowers, or taking out a micro-loan to better yourself and the world.Oikocredit puts the concerns of aid-dependence to rest and supplies opportunity instead of checks, gives a hand-up instead of a hand-out, and empowers instead of pitying. Oikocredit is, most definitely, a friend to the international community.

Reference:

http://www.oikocredit.org/en/home
Nizhonigo: Navajo Mission Reflections
First off, I want to say thank you again to all those who were so supportive of this trip, spiritually and financially. The impact being made on the Rez is insurmountable and I am truly humbled and honoured to be counted worthy to be a part of it. Thank you to The Potter's House Chinle Christian Center and the Lord's Church in Pinon for hosting such wonderful events. I also want to thank Action Missions for their work on the Navajo Nation and their fearless leader, Jim Yates, who has given so much and has faithfully led us on this mission. My thanks extend to his family as well for all their sacrifices. Thank you to the leaders of OYM for giving me the original opportunity with my first trip down to Chinle. Also to Dr. Dan and Cathy Erickson for their sacrifices and dedication to God's calling on your lives. Thank you to Serafico Servada for being absolutely insane and passing on your joy and spirit to all of Chinle. Thank you to the Chinle Holiday Inn for housing us. Lastly, thank you to the Navajo People, for being so trusting and generous to us. For allowing us into your culture and hearts and homes. For trusting us with the hearts of your precious children. Thank you May God bless all of you beyond measure, in this life and the next :)
This was my second trip down to the Navajo Reservation and I know a lot of you have heard me say I felt as though I left my heart there the first time. My first Navajo venture was a part of the OYM (One Year Mission) program at NLCC so I had gone per my internship. I had never been on a mission trip prior to that but I will tell you this - I felt as though I could have stayed forever. I have always been a dabbler, meaning, I really enjoy experiencing lots of different things and it's always been a challenge to find my "niche" in life. At the end of my OYM term, I remember everyone discussing what they saw in their immediate futures and how excited they were… but I had no clue what to do next. I had committed to mentoring in the next OYM class and I was a Young Adult minister at the time but I had absolutely no idea what God had planned for my life. I had dropped from my Psychology degree with no desire to finish (I wanted to finish college, but not the same program), was working a job I loved but that barely paid the bills, I had no significant other and just.no.freakin.clue. what I was going to do. I prayed and prayed and prayed some more but wasn't getting any answers. The we went to the Reservation and I fell totally head over heels in love. We did a VBS in Pinon during the day and served at the annual tent meeting in the evening. I was smitten. Mostly with the kids in Pinon. A little girl by the name of Lexi attached herself to my pinky finger and then to my heart in the process.
Can you see the ridiculous amount of love?! CAN YOU!?!?
I also led the team of the older boys who attended and they just melted me down and I know I went down there to bless them, but really, they blessed me. These kids, who have been oppressed and abused and raped and taught that they are no better than a piece of trash in the desert, to see their boldness and bravery to ask the hard questions and spend their time and trust on a curly-haired white girl from the midwest… Never have I seen such courage. This reality is even more amazing when this belagana is sharing about Jesus Christ. This is hard to swallow… When your dad is raping you and your brother is in a gang and you are barely educated and your country, which declares freedom, has forgotten you in the dungeon they put you in and hope isn't even a thought in your mind… can you accept that there is a God who sees your every tear, who loves you deeply and uninhibitedly, who loves your abusers just as much? These kids did. And for whatever reason, they chose to spend their time in a teeny tiny church with naught but an outhouse to play in and listen to a bunch of whities sing songs and tell tales of a king who wore rags and redeemed the world in the space between heartbeats, from a cross to a tomb. Never have I seen such bravery. And as for me, could I look these kids in the eye and honestly, genuinely tell them that Christ was the answer? That he is worth everything we can give when we feel as though we have never had a say in what is given of us? That justice still reigns? That they are deeply loved in the intended way, the created way? That they have a purpose in a kingdom of glory?
Could I?
Yes… because it was truly the absolutely only thing I could offer. You can give all the food, clothes, aid, education, clean water you want but brokenness and it's consequences will never be remedied unless it is bound to the source of life and mended. Then, hearts heal and hearts change and hearts drive a people to make the bad things different and be the vessels of transformation. Only by following suit of the firstfruit, our saviour, Immanuel, God-with-us.
Never underestimate the reality that you are a child of God. And never forget that you have the agency of a king within this world. And never let fear and doubt win; they are beastly enemies but if they are on your scent, your aroma must be a sweet one. 
When I returned to KC, I felt like my heart never came back with me. As the months went on, that feeling only deepened and by winter, when I was asked what the one thing was that I would do if there were no obstacles or details to worry about, my answer, without hesitation, was "I'd go back to Pinon and play with the kids." So, I prayed about moving to Arizona. And then God confirmed it, over and over and over and over and over again and eventually (aka 2 months ago) I  packed up my $400 car and hightailed it to Phoenix. Now I am close enough to make multiple trips throughout the year. 
Due to what a heavy impact the first trip made on me, I was thick with joyful anticipation for the second trip. The trip out was super fun. Stephan and I carpooled out from Tempe and arrived in Chinle Sunday evening. I also got to room with Michelle and Stephy-Poo O'Day at the hotel, which was just amazing. It was an absolute God set-up and I am so grateful for their comradery. Also, the Holiday Inn was stocked with rainforest-alliance coffee, so my previous caffeine weening had been for naught (and I was SO very much glad). Monday, the whole June team got together starting at 7am for breakfast and a devotional. Jodie, a willful princess of a 6-year-old and daughter of our mission leaders, Jim and Alison, proclaimed herself a professional snail-hunter. So, she had to school me in the art of snail tracking before we left for the day. Then we headed out to Pinon. We hopped in the bed of the O'Day truck and off-roaded through the desert town, giving VBS flyers to anyone who would take them. Afterwards, we headed back to Chinle to do likewise. I know a lot of us remember VBS as this cheesy-church thing our parents made us go to but I'll tell you, these kids' entire substance alights when they see hear that acronym. They look forward to it every single year.
The church that Action Missions partners with is called The Potter's House, pastored by Arty Aragon. If you walk about 30 yards out from the door, there is this cement slab embedded in the ground. On this place, and all around it, you will find broken glass, trash, needles and lots and lots of punctured hairspray bottles. For those who don't know, alcohol is illegal on the Reservation due to what a problem alcoholism is. So instead of drinking liquor, many people substitute a concoction called "ocean". Ocean is created by taking an alcohol-based hairspray and mixing it with water in a large jug. A lot of people are severely addicted to this substance and it is just heartbreaking to see the remnants of a life  piled in a heap of trash outside the doors of the church. A couple of the girls and I just stood in the middle and prayed for a redeemed and restored land; for redeemed and restored lives.
We had a small amount of downtime before we it was time to primp for the tent meeting, which I spent mostly snail hunting with Jodie, who was pretty disappointed to find only shells in the hot afternoon. She remained positive though and declared we would just have to try again tomorrow. The annual tent meeting is essentially a giant circus tent set up right off of Canyon De'Shelly for the purpose of hosting a revival-type event. An evangelical preacher by the name of Serafico Serveda travels to Chinle and pretty much knocks the spiritual socks off of you because "The devil is a liar, and so is his fag mother". After worship and most of the sermon, we all headed back to the other big tent to serve a free, well-balanced meal to the 5-600 people that show up for the event. The first night, we straight up ran out of food, which is really an excellent thing because that meant we had far more people than expected :). So once everyone was served, I shoveled in some fry bread, said hello to everyone and then we ran clean up until about 11p. Once everything was spotless and bagged (due to dust) I hopped in with the NLCC team and we went out to a lookout point on the canyon.
If you and I have ever had a conversation about the Rez, you have undoubtedly heard me rave about the stars there. The stars there are so visible and so vast and so many I can barely keep contained when I think about them. They are by far, the most amazing thing I've ever seen (yet). My first trip out, I remember looking up and just crying. The lack of industry and crowds allow the sky to be vulnerable; clear and inviting. Because it's the middle of the desert, there are no clouds claiming territories. I remember trying to take it all in and the only thing I could think about was Abraham, with God looking at him and his barren Sara and promising  "I will surely bless you and make your descendants as numerous as the stars in the sky". I never understood the beauty of that promise until I could not even fathom counting even a fraction of the stars I could see. We all sang "How Deep the Father's Love for Us" on the edge of De'Shelly, with voices ringing and hearts understanding how vast beyond all measure that love truly is.
Tuesday began VBS in both Pinon and Chinle. I was on the Chinle team and honestly, it broke my heart that I was not able to visit the Pinon kids this year. I have spent so long a time missing and praying for them and it was one of the most difficult things for me to accept. However, God gives authority to whom he chooses and I know that I am a part of something much bigger than I can even imagine, and I know that Chinle is where he wanted me. I was so scared because I knew I was only going to fall in love with more amazing children… and that's exactly what happened. I'm always worried that I won't have enough love to go around, as though we only get a particular measure of affection and when it's out, it's out. But I am always joyfully surprised when I find my heart and capacity for adoration only growing; gaining muscle with every muse.
Dr. Dan shared a story about his dad that morning. His dad who had a 3rd grade education, feeling called to minister to the reservation many decades ago. "Had I a 2nd grade education, I would have spoken up to them. Had I a 4th grade education, I would have spoken down to them." Because of his "lack", he was able to truly make an impact on people as equals, not as projects. It was a truly inspiring testimony. 
The first day, we had approx. 75 kids, split up into 4 groups: Pre-K to K, 1st-2nd, 3-4th and 5th+. Our VBS was Army-themed and focused on the reality that we are all in the midst of a spiritual battle. Our first memory verse was 1 Corinthians 16v13-14 "Watch, stand fast in the faith, be brave, be strong. Let all that you do be done with love". I assisted Dr. Dan in the Bible lesson for every rotation, which means I essentially got to be the silly one and lead the kids in a bunch of motions to engrain the message :) . Michelle led the memory verse, Cathy led crafts and Joe/Will/Ethan led the game. The older kids are always a challenge the first day because we have to separate the ones who still enjoy sing-alongs and suckers from the ones who are way to cool for such nonsense and would rather help the adults… but we still gave them suckers. After the complete rotation, we gathered for review, prizes and then made all the kids a lunch. After lunch, the children came to the very exciting realization that all the younger volunteers are big, strong and are so smitten with them that they are willing to do nearly anything to make them smile. So began the human jungle-gyms. The time between lunch and when the kids were picked up was merely a blur of piggy-back rides, tackling, tag, hair-styling, dancing and of course, duck-duck-goose. Once all the ducks and geese waddled on home, we cleaned up, breathed and headed back to the hotel for some downtime before tent-meeting.
Wednesday followed suit, with both events growing in attendees everyday. Thursday morning, we all met up at 7am to watch a sheep-slaughtering which was quite an experience… We roll in and there is this sheep, legs bound together, just waiting in the dirt. 
Here am I, scratching the ear of my dinner, with Jodie, who is far more excited than I am about the whole ordeal.
ALL I COULD THINK ABOUT WAS JESUS "as a lamb to he slaughter". So by the time the blood had drained into the hole after Stephan slit it ear to ear, I was in tears. And by the time the tail stopped wagging, my heart was raw. And so, when they snapped the leg bone, I choked on my tears and my heart punched my stomach and I had to retreat to a bush nearby to hurl. That was the moment I concluded that if I had to slaughter my own meat, I would be a vegetarian. Thank you, butchers (but only the humane ones. The rest of you need to check yourselves). Needless to say, all I had for breakfast that day was a piece of bread.
Thursday VBS was pretty heavy. We taught on James 4v7-8 "Therefore submit to God. Resist the devil and he will flee from you. Draw near to God and He will draw near to you". Trying to tackle teachings of submission to a group of kids is hard enough, it's even more difficult to explain when a good portion of the kids are going home to really terrible situations. It is also worth every effort and prayer because these kids are the present and future of the Navajo Nation. If they can accept Christ and cultivate the transformation that accompanies, the hope I have for them and the coming generations is endless. During the review, Alison told me that pastor Arty wanted to see me. To be frank, my heart dropped. I totally thought I was in trouble and my mind just raced with what the coming conversation would hold. So I nearly fell over when I walked into his office and, all smiles, he gestures to about 15 GORGEOUS pieces of handmade Navajo jewelry and asked me to pick whichever I desired. I was so-oh-oh-oh flustered! Immediately my eyes landed on a very unique piece- It was a white stone set; necklace and earrings. The stone beads were polished and bore spidery black marks like those in turquoise. Now I am not proud of this and I am not trying to wallow or self-depricate here but this is my blog and I've vowed to be genuine so I will tell you that all I could think of was purity and blamelessness when I saw it and in a split-second, I concluded I was unworthy of such an adornment and I picked up a beautiful turquoise and coral set instead. I thanked Arty and walked out of his office. As I walked away, my heart fell straight to my toes and weighed me to the floor. "I want you to have it, Camlyn. Go back." Is exactly what I heard The Lord tell me that moment. So, I went back in and said I had changed my mind, picking up the white stone set. It wasn't until I was journaling last weekend that I remembered an old teaching I did on Revalation 2v17 "To him who overcomes, I will give some of the hidden manna. I will also give him a white stone with a new name written on it, known only to him who receives it." God is so very good to me. Thursday at the tent meeting was also Traditional night, which means everyone wears any traditional Navajo dress and/or jewelry they have. I felt SO honoured I could partake! It was truly an amazing day. 
We also hiked down to the Whitehouse ruins in the canyon that afternoon. One of the most enchanting displays of God' majesty I've witnessed. 
Friday. I woke up in a state of pure exhaustion and honestly did not even remember it was my birthday until we were on our way to breakfast. Breakfast was awesome, especially when Jodie introduced me to her new pet, Greenie, a captive snail who was confined to a plastic cup side-by-side with my coffee.  Arty shared the history of his family and how God brought them to Chinle to build up The Potter's House. Truly an awesome testimony. I have unending respect for their family and their sacrifices inspire me greatly. Then we started prepping for VBS and Cathy was adamant about getting me SOMETHING to celebrate the day so I asked for a mexican coke (the ones with real sugar). VBS was great. At the start of the day, I told the mass of kids that it was my birthday and they all sang to me. Then they were over it and we got to learn about the Armor of God. It was one of the coolest things to be at the front of an auditorium with 80ish kids and hearing them recite one of the most amazing scriptural analogies in the Bible. I will also tell you that over half of the kids who attended made a public declaration of Jesus Christ as their saviour. How absolutely humbled I am to be a vessel of God's truth for these children! When they all headed home, Jim toted in bags of the most bestest tamales my tongue has ever tasted. And so, we feasted. Then, Cathy and Kayla brought out a cookie with a candle stuck in the 3 inches of frosting on top and I got to make my wish for the day (Thank you SO MUCH, Erikson's! It meant the world to me that you wanted to make me feel special, and you definitely succeeded).
Michelle then drove all us young'ns to the flea market where I found Fidelia, one of the girls from VBS, selling jewelry with her mom. After picking out some earrings and paying, she ran over to me and told me that she had made the ones I had picked :) We went back to the hotel and I totally passed out at the pool before I had to get ready for tent meeting. There were some crazy haboobs that night and we definitely had some dusty encounters while preparing dinner. Always an adventure! After dinner, some of the kids from VBS spotted me and I simply had no choice but to give some final piggybacks. As they said goodbye and gave me hugs, I just didn't want to let go… Some of the refined (aka older) Navajo women who are members of the church started talking to me and introducing themselves. They commented on how I was with the kids and we got to talking about my move and what God had put on my heart. Their response? "Oh we'll just have to adopt you! I have a son!" another woman chimed in "I have two!" Pointing them out to me. "Oh, we'll just line 'em up and let you pick!" Then, one of the kids ran up an told them it was my birthday and I got one of the coolest presents (no, not a husband): Mary, one of the grandmas, started singing "Nizhonigo nindoohah" which is "Happy Birthday" in Navajo. Oh, I was simply done in. I couldn't even speak properly in response. "Thank you" was all I could say, over and over. We exchanged info and talked about when I could come out again. Then hugs. Then driving away. Then sleep and so many thoughts…
Saturday, we all peeled ourselves out of bed around 5:30am, except for Jodie who was "not quite ready yet" and let her mom's creativity be cultivated by finding new and exciting ways to detatch her from the bed. I packed up all my stuff, save my flats which I totally forgot, and loaded everything up in the truck. I made a cup of coffee, chapsticked it up and headed over to the church for the final goodbye. Arty prayed for us all and our journeys. There were many hugs and goodbyes and then, we pulled out of the Potter's House parking lot and headed for home. 
The first 20 minutes of the trip consisted of Stephan and I incessantly wiping our eyes and noses and not making eye contact or saying a word to each other. The silence shattered into giddy and sleep-deprived laughter when we drove by a "No Passing Zone" sign, which someone had graciously taken the time to stop and scratch the "P" off of.
I'll let you do the math on that one. 
What then, shall we say to these things?
I will leave you with David's words of old and my prayer for the Navajo Nation:
"From you comes the theme of my praise in the great assembly; before those who fear you, I will fulfill my vows.The poor will eat and be satisfied;those who seek the 

Lord

 will praise him— 

    

may your hearts live forever!

All the ends of the earth will remember and turn to the 

Lord

, 
and all the families of the nations 

will bow down before him, 
for dominion belongs to the 

Lord

 
and he rules over the nations.
All the rich of the earth will feast and worship; 

    

all who go down to the dust will kneel before him—

    

those who cannot keep themselves alive. 
Posterity will serve him;
future generations will be told about the Lord. 
They will proclaim his righteousness, 
declaring to a people yet unborn: 
Psalm 22v25-31
Desert Life (a Camlyn update)
So it's been a little over a month since the move and I wanted to give everyone an update. God has been so faithful; it's beyond what I could ever ask or imagine. I started work about 2 weeks after being here and my job is AMAZING. I essentially go to different houses providing respite and habilitation for children with special needs. I'm getting paid well and plenty of hours plus, the kids are so fun! The stress (and paperwork) levels are low and as an added bonus, I now have seen every Backyardigan and Muppet movie ever made. So now, when my Sifu talks about self-control, this is all I can think of:
I moved in with a couple of wonderful women in Tempe last month and have been getting along wonderfully. Though I have described the atmosphere as similar to "girl world" in Mean Girls ;) I met them both through my new church, Redemption Tempe, which is AMAZING. You can check 'em out here: http://redemptionaz.com The teachings are very sound and thorough and aimed at people in every walk of life and the worship… Oh goodness the worship is just heavenly. You can get a free download here: 
and you absolutely MUST watch this performance from Easter Sunday http://www.youtube.com/watch?v=ltGmhJTEaMQ  <that was form the morning service, which is a poor excuse for why no one was movin and shakin, but it's really all I can come up with.
Speaking of worship, I've been working on some vocal projects for a great company  back in KC called Fuzion Four Records which is proving to be a LOT of trial and error but has really been stretching my creativity and confidence. I also began taking Kung Fu, which I wasn't planning on but I dropped in on a class with Cynthia and just fell in love with it. So that, paired with my Ballet conditioning and Swing Nights at the Duce, has been keeping me pretty active. Also, hiking. There are some pretty sweet mountains all around Phoenix and they are GORGEOUS to tread, so long as you go early enough in the morning, or else you run out of water and die. It's also been super awesome alredy having good friends here. I hang out a lot with Cynthia, Ryan, David, Lena and Stephan which is a pretty solid group of people to know, especially if you want to know what's going on in the community.
Spiritually it's been, as promised, a time of rest. God has just taken care of every detail and so when I start worrying, I find myself with no excuse to do so. It's truly been a reminder to "consider the lillies"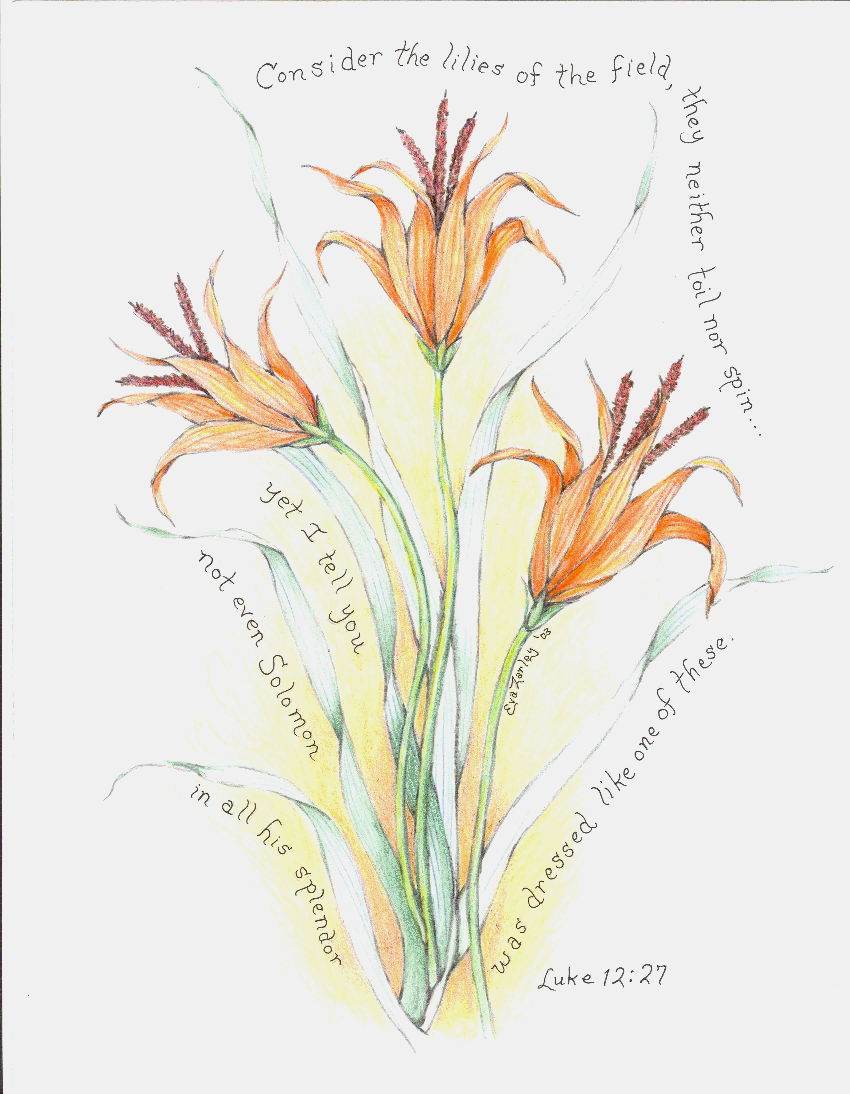 I have been reading and praying through Surviving a Borderline Parent which has been SO helpful to me (I highly recommend it to anyone affected by a parent showing borderline symptoms). I've also been following along with the sermon series at Redemption right now titled, "Faithful", which explores God's faithfulness and sovereignty specifically in the lives of Joseph, Judah, Tamar and Daniel. It has been exactly on point with what God's been showing and telling me outside the church walls. 
Next weekend I'll be attending a cabin trip with a group from Redemption and when that's over… CHINLE!!! I'm so excited! Everyone was so supportive and generous with their contributions, I was able to raise every penny of the $300. PLUS my mom is covering the amount of money I'd be losing from missing work for a week so I am set! After that, I'll be getting ready for classes to begin in July, which I am also st0ked about. Although, my social life will probably dwindle a bit :p But, what kind of life is one unworthy of sacrifice?
So that's what I've been up to (in a nutshell). I would post up pictures but I have lost the cord to my ancient camera so… stay tuned for future uploads. Love y'all and thank you so much for your prayers and thoughts… and calls… and texts… and FB posts… and gudd vibes ;)
BIG KISS little kiss, little hug, BIG KISS, little hug